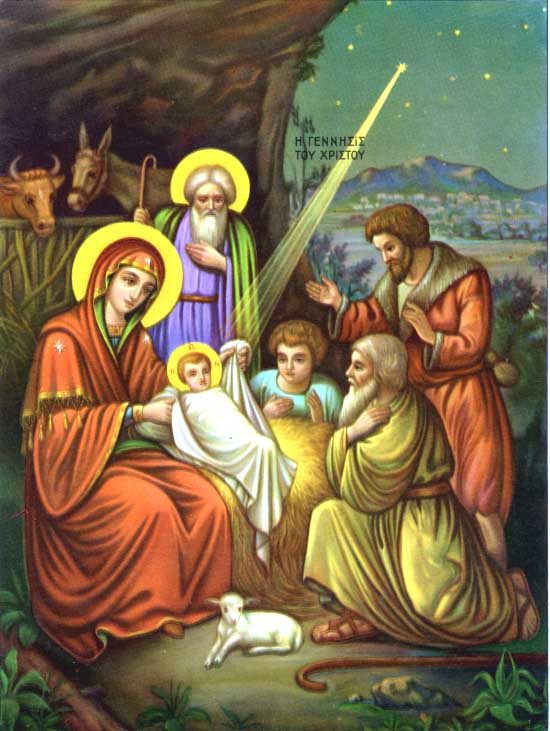 The Expectation of Christ's Holy Birth
With a Feast especially dedicated to this mystery during the holy season of Advent, Holy Mother Church celebrates Our Lady's Expectation of the Birth of Christ on December 18th. This Feast was celebrated from the earliest centuries of the Church in Spain, ever since St. Alfonso, Archbishop of Toledo, during the midnight Matins of this Feast (which was also celebrated in honor of the Annunciation) was favored with an apparition of our Heavenly Mother, who clothed him with a precious chasuble brought by the Angels.
1. The Life of Our Lady During this Period. Consider this life under two aspects, one interior, the other external. Under the interior aspect, the life of Mary was one of absolute compenetration with Her Divine Son. We should not say that Mother and Son were leading similar lives; no, rather, they were having the one same and identical life. We cannot imagine a greater dependency than that of Jesus in the most pure womb of Mary. He was receiving all His Life from Her. He was dependent upon Her for everything. What a mystery! God depending upon a creature! Probe the profundity of this Divine intimacy between Mary and Her Son; and, first of all, learn the lesson of recollection. Through the virtue of recollection Mary entirely concentrated on Jesus. Learn fervor and love, for through these virtues Mary was living only for Jesus. Through the eyes of Her Son, She would see much better than through Her own. She would love with the Heart of Her Son. Her only pleasure was to give joy to His Heart. What a perfect and powerful love would She not feel towards that God Who had enclosed Himself within Her! Hers was a life of untold joy, because all things Divine are joyful, and the possession of God which Mary was enjoying equalled in fact the glory of the Blessed in Heaven.
Finally, Her life was one of intense desire which She would give vent to in prayer, doing violence to the Heart of God that He would hasten as quickly as possible the hour of His manifestation to the world. The Hour of Redemption! This was the thought which transfixed the whole life of Mary in those days. It was sweet to think that, as a result of this sublime and fervent prayer, the Eternal Father anticipated the hour of the Redemption of the world, and sent His only-begotten Son to save us.
2. Her External Life. How admirable is our Blessed Mother in every detail! In spite of Her intense and Divine interior life, She lets nothing appear outwardly. Her external demeanor showed a sweet calm, a lovable simplicity, an amiable serenity. No one at all suspects what is happening interiorly, not even good St. Joseph. How closely guarded is the treasure of Mary! How jealously She keeps it from human eyes! Neither ambition, nor pride, nor self-love, nor craving for praise can move Her a fraction to share Her secret. She will never lend Herself importance in front of Her neighbor. She will never esteem Herself superior to anybody, although She was, indeed, superior to all. What practical humility, what precious simplicity! How often our scanty merits evaporate because we lay them open in front of all and are unable to keep our secrets only for God. How often we endanger our merits because we imprudently expose them to the eyes of men, longing, more or less directly, for some word of praise, some appreciation.
3. The Life of Her Son. Contemplate the Life of Jesus in those moments, hidden, like in a Tabernacle, in the bosom of Mary. What darkness and silence beset His life! What helplessness and weakness are His! He depends on Her for everything, He must receive everything from Her. And yet, meanwhile, He is governing the world. From there, He continues to be the joy of the Angels. But, above all, from there with His Divine Presence, He is, through His Divine contact with His beloved Mother, sanctifying Mary more and more. What an active intimacy, oneness of life, and interior activity between Mary and Her Son, between the Son and His Mother.
4. Your own life. Here is the model for your own life. Real living is living with Jesus. A real life is one of total surrender to Jesus and to Mary. No one suspects the sweetness, the charm, and the perfection that is hidden in the interior life. Learn from Jesus and Mary what the interior life truly is. Compare yourself with Them. Do you enjoy silence? Do you relish living hidden and unknown? Do you welcome its external simplicity? In your heart, is there that fervor, that love for Mary which leads you to see and speak with Jesus in the intimacy of your soul?
How is it that contact with Jesus, this Presence of Jesus, so similar to His life hidden in the womb of His Mother, does not bring forth in you, especially at Holy Communion, the sanctity it begot in Her? To this end, you must watch over your senses, mortify them, concentrate on your interior, compel your powers to see Jesus within you, grow accustomed to deal with Him in the intimate recesses of your soul.
Lastly, consider that you have here a most perfect model of the Holy Slavery to Jesus through Mary, taught by St. Louis Marie de Montfort. Jesus is the first voluntary Slave of Mary. His life depends on Her. So must your life be one of entire surrender and dedication to Mary. Henceforth, in imitation of Jesus, do nothing without Her.
Visit also: www.marienfried.com