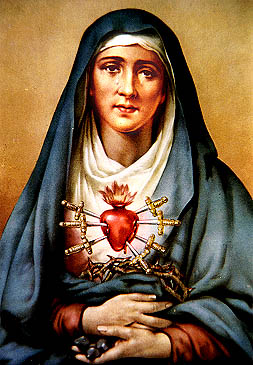 Can we, as children of Mary, ever forget the sorrows of our Mother? Should not our hearts ever be filled with tender compassion for the Queen of Martyrs? Let us sometimes reflect that it is we who have been the cause of Her long and cruel martyrdom, and when we have crosses to bear, let us unite them to Hers, and thus tread courageously in the footsteps of the Son and the Mother. Let us remember that "through many tribulations we must enter the kingdom of God." (Acts 14:21)
Alas, how little do we resemble this perfect model. A single interior trial, a single affliction, the slightest suffering, is sufficient to dishearten us and to cause us to murmur and complain. Unfortunately, we thus lose all the fruits and much of the merit of our trials and sufferings. O Dolorous Mother, teach us to think often of the sufferings of our Crucified God. At thy side, let the Cross be our support in trials, and instead of indulging in self pity, let us pray with thee: "Father, Thy Will be done!"
Truly precious are the lessons of patience and resignation which we may learn from the contemplation of Our Lady's Dolors. Though sorrow constantly flooded Her soul, She performed all Her daily tasks sweetly and patiently, neglecting not the smallest duty, living always in perfect conformity to the Divine Will. How often do we not grow peevish and petulant in suffering! How readily do we not complain that we are made to suffer innocently and unjustly! Ah, let us raise our eyes to Mary, the sinless Mother of God, and behold in what a sea of sorrow She was immersed. Her sufferings should close the mouth of complaint forever.
And do we not learn, when we look at Mary, that suffering is the means of producing in the soul a grand similitude to Christ? Ah, may we learn from our dear Heavenly Mother, not only to bear our sufferings silently, but to bear them with gentleness, and perhaps, in time, She may even teach us to love suffering, and to look upon it as the golden coin with which our love can repay the excessive love of Her Divine Son for us.
Let us, then, cultivate a tender devotion to Our Blessed Lady's Dolors. We are assured that this devotion is most pleasing to Our Lord Himself, and most profitable for our own salvation. It shows us the unreality of earthly joys; it communicates to us the spirit of the Cross. And in that hour when we shall need them most – the hour of death – this devotion will prove for us a source of very special graces.
---
Mater Dolorosa

Lessons from the Queen of Martyrs
Suffering is a general law that applies to all men without exception. The child needs no one to teach him how to cry and weep. His subsequent life will also be spent between mourning and weeping. We cannot escape suffering. It awaits where we least expect it – perhaps when we are surrounded by the greatest joys of life. Indeed, these are often just a prelude to tears. When you receive some very great joy, think that soon, perhaps, some severe shock, either physical or moral, of the body or of the soul, from within or without, will eventually strike you. It is sheer madness to want to enjoy life by merely escaping suffering. The thorns are least painful when we meet them generously. Welcome them and, above all, sanctify them and raise every sorrow or suffering to the supernatural order.
Jesus wanted to be called the Man of Sorrows and His Mother the Queen of Martyrs. These are your models. They are the only ones who through their example can comfort you and teach you how to sanctify your trials. "Blessed be suffering", Christ has said: Blessed are those who weep; those who mourn; those who suffer. We should feel more pity for the one who does not know how to suffer, than for the one who suffers much. Our Lord made His Mother sharer of His glory, and on that account He made her also the companion of all His sufferings. The more God loves a soul, the more suffering He sends it in order to raise it to a greater glory, just as He did with His own Mother. How much did Our Lady suffer at the foot of the Cross! But how great is Mary at the foot of the Cross! What a pearl would be missing from her crown if she did not possess the pearl of suffering! It was necessary, since she was a Queen, that she should also be Queen of Suffering and of Martyrdom. And if she is Queen of Sorrows, she must have suffered more than anyone else a martyrdom that lasted a lifetime.
To us, God sends sufferings one by one. And He keeps our future sufferings from our knowledge. We only suffer the present. But to Mary from the beginning He revealed all that she had to suffer, in order not to spare her sorrow, but that the sword of suffering should remain in her Heart her whole life through. Think of her sufferings. How deeply was she wounded by the ingratitude, by the betrayal, by the abandonment, by the indifference of which her Son was made the object. Bethlehem, Egypt, Nazareth, the Crib and Calvary, the Temple, the palaces of Herod and Pilate – in all those places her Heart was horribly lacerated. She even went through the loss of Jesus in order to teach us how to suffer and how to seek Him whenever we lose Him by sin. Stop and ponder over the sufferings of your Mother.
In all those sufferings of Mary consider also their natural and human side. The measure of suffering is the intensity of love. We are pained to quit or lose what we love. The greater the love, the greater the sorrow. With this measuring rod try to gauge the sorrows of Mary. Hers was the suffering of a Mother, and that should tell you all. A mother's love is the most pure, the most noble, the most selfless on earth. That is why God wanted us to have only one Mother. She alone suffices to fill the whole of our life with an ineffable fondness, with a cherished warmth, with the fulfilling love that sets our heart at peace. How great is the love of a mother, and then how would Our Lady love her Son! God had placed in her Heart the plenitude of the tenderness of all mothers so that she should worthily love His Only-begotten Son. Nothing else was worthy of the Son of God Who wanted to be called the Son of Man par excellence. What then would be her sorrow and desolation on the occasion of the loss of her Son!
Think also that the Son she had lost was her only Son. She had no other with whom to console herself. And that only Son was the best of all, the most loving, as no other man ever loved. On the other hand He was also the most innocent. And yet she was losing Him as though He were a criminal. It was not a sickness, a chance accident that snatched Him away from her. It was a betrayal and ingratitude; it was a horrible injustice that cut off His young life in the midst of the most excruciating tortures, and even in her very presence!
Moreover, it is true that sensibility has different degrees, that it varies from man to man, and that the greater the sensibility, the more fierce is the suffering. The Immaculate Mary, having such a perfect human nature, and therefore so extraordinarily sensitive, was of such an exquisite sensibility. How great, then would her sorrow be when confronted with such ingratitude, with such injustice! Ponder over these thoughts and you will see how fitting are those words of Jeremias when applied to Our Lady: "Look and see whether there is a suffering – a sorrow – comparable to mine!" Henceforth, then, enough ingratitude – cease making your Mother suffer through your sins! Love her at the cost of any sacrifice, even at the cost of your life.
---
"The holy example of Jesus Christ Who, while upon earth, honored St. Joseph so highly and was obedient to Him during His life should be sufficient to inflame the hearts of all with devotion to this Saint.
"Since we all must die, we should cherish a special devotion to St. Joseph that he may obtain for us a happy and holy death. All Christians regard him as the advocate of the dying who assists at the hour of death those who honored him during their life, and that for three reasons:
"First, because Jesus Christ loved him, not only as a friend, but especially as a father, and on this account his mediation is far more efficacious than that of any other saint.
"Second, because St. Joseph has obtained special power against the evil spirits, who tempt us with redoubled vigor at the hour of death.
"Third, the assistance given St. Joseph at his death by Jesus and Mary obtained for him the right to secure a holy and peaceful death for his servants. Hence, if they invoke him at the hour of death, he will not only help them, but he will also obtain for them the assistance of Jesus and Mary."
St. Alphonsus Maria Liguori
"If you compare St. Joseph to the whole Church of Christ, is he not the special and chosen being of whom, and under whom, the Lord was introduced into the world with becoming dignity? If all the faithful are debtors to the Virgin Mother for being made worthy through her to receive the Redeemer, there can be no doubt that next to the Mother of God we owe to St. Joseph our special homage and veneration."
St. Bernardine of Siena
---
The nine year-old boy, Venerable Francisco Marto of Fatima, who witnessed the apparitions of Our Lady in 1917, is somewhat like the great St. Joseph in his humble, simple, hidden life in God. Eulogized by his older cousin Lucia, he is described as the "consoler of the hidden Jesus" in the Most Blessed Sacrament, so lonely and so forsaken, Whom he loved to console. His role was one of great humility and patience.
This little boy, so full of life, learned well the lesson Our Lady taught the three of them, and he often reminded Lucia and Jacinta of the great necessity of sacrifice. Our Lady had said in August when She appeared to them at Valinhos, after their terrible ordeal at the hands of the civil Administrator of Villa Nova de Ourem: "Pray, pray much, and make sacrifices for poor sinners, for many souls go to Hell because there is no one to make sacrifices and pray for them!" He used to remind Lucia and Jacinta of the great sorrow in Our Lady's face when She spoke Her last words in October: "People must not offend the Lord God anymore, for He is already too much offended." He used to hide himself in the parish church of Fatima to console Jesus in the Most Blessed Sacrament. Many a time, unknown to Lucia and Jacinta, he gave away his frugal lunch to the poorer children, and sometimes even to their sheep. At times, all three of them did this. He hid himself to make further sacrifices. Like the Fathers of the Desert he wore a rough cord around his waist, as did little Jacinta also.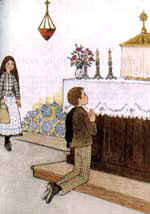 Lucia has told us: "Francisco would disappear for hours, and when found praying before the Blessed Sacrament, he seemed oblivious of the length of time that had passed, so completely engrossed was he in consoling the Hidden Jesus."
Venerable Francisco never forgot that Our Lady had said that he must pray many Rosaries. Not only did he pray with Lucia and Jacinta, but he also prayed very many Rosaries all alone. At times, Lucia and Jacinta, not finding Francisco, would call out for him and search for him, and when found, he would be on his knees, absorbed in praying the Rosary, thus adding sacrifice to prayer. He would, at times, be found by Lucia and Jacinta prostrate, praying the prayers taught by the Angel, and not having heard them call him, they would surprise him. He loved to sacrifice and pray alone, visible only to the eyes of God. So great was his love of Jesus in the Holy Eucharist, that during his last illness he asked Lucia to plead with the Pastor to give him his First Holy Communion. His request was granted, and he received Our Divine Lord in the Most Blessed Sacrament with great love and fervor: the same hidden Jesus he had so often consoled in the Tabernacle, the same loving Jesus he had received from the hands of the Angel of Peace at the Cabeço. He asked Lucia and Jacinta to pray the Rosary for him at his bedside when, during his severe illness, he was unable to do so himself. Jacinta and Lucia, with tears of love and sorrow, bid him goodbye thus: "Então Adeus Francisco até a Céu." ("So now, goodbye, Francisco until we meet in Heaven.") Jacinta was already ill herself, and would see him in Heaven the next year. Francisco, who had seen Our Lady, was visited by Her during his illness. He died with an angelic smile on his lips, without a struggle, most sweetly.
Let us Pray:
O God of mercy and love, Who exalteth the humble and simple, let us imitate Venerable Francisco Marto of Fatima, so that the illustrious example of his life of sacrifice and prayer, may be in simplicity and humility a shining model to all, especially our children. Please grant this through the intercession of the Immaculate Heart of Our Lady of the Rosary of Fatima, who deigned to appear to him and Jacinta and Lucia. Amen.
Visit also: www.marienfried.com