Virgin Most Renowned
The translation "Virgin Most Renowned" does not give the exact sense of the Latin "Virgo Praedicanda," which translates more accurately "Virgin to be Proclaimed or Extolled."
To Her applies that word of Sacred Scripture: "They that explain Me shall have life everlasting."
But surely we need no prompting to pay Our Blessed Mother this tribute of love. Surely the love of Her which overflows in the hearts of all of us will sometimes find expression in words!
We all love to talk about our favorite pursuits. "Out of the fullness of the heart the mouth speaketh." If we really love anybody or anything, we shall make them the subject of conversation, at least with intimate friends, who share our sentiments. How much good can be done by words, and how much evil!
People generally do not want to listen to sermons, except from those authorized to preach, so it is neither necessary nor desirable for lay persons to "preach." But a simple word spoken unaffectedly, about Our Blessed Mother, may plant the seed of love and trust in Her in a heart, to bear fruit in due season, in a way perhaps never dreamt of. How Mary treasures all such words about Her, and how faithfully She will reward and bless them! Ask Her to give you the occasion and the grace to frequently explain, honor and praise Her in a worthy manner.
"Glorious things are said of Thee, O City of God!" These words may well be applied to Mary. What glorious, burning words have been said by the great Fathers and Doctors of the Church in all ages to celebrate the praises of Mary, to "explain Her!" It would take more than a lifetime to read all the wonderful works that have been written about Her. Think of St. Bernard, St. Bonaventure, St. Anselm, St. Alphonsus, and others of Her devoted preachers, who have made Her glories their special subject. St. Bernard said that there was nothing which delighted him more than to preach sermons on the Mother of God.
And even to this day he continues to preach Her, for it is his beautiful and glowing panegyrics, above all other Saints, which are used by the Church in the Offices of the Feasts of Our Blessed Lady, and in the prayers which we say daily, such as the familiar "Memorare."
To him She was truly the "Virgo Praedicanda." Let it be the same with us, each in his own humble sphere; we can all add something which is truly our very own, to this mighty torrent of the Virgin's praise. And it will be noticed and loved, for nothing we do in Her honor is ever unnoticed or unrewarded by Her. Each one of us can help to preach Our Blessed Mother by distributing books, medals and pictures of Her. All this preaches Her, makes Her known. Even if people only take them with some vague notion of honoring Her, Our Lady will reward our faith and zeal by giving them graces. Many are the conversions recorded which began in this way.
We should also love to read good books about Mary, so as to increase and deepen our knowledge of the greatness, the dignity, the privileges of Our Mother, and so be able to speak of Her, when occasion offers, more worthily. When we read the beautiful and profound things said about her by the great Saints, even if we do not fully enter into their meaning, our notion of Her greatness and dignity is insensibly exalted, and we gradually grow in the true knowledge of Her. We shall never be able to find a more attractive, a more fruitful object of thought or study than Mary.
How can we praise and extol earthly heroes or earthly excellencies, and be tongue-tied when there is question of praising our Queen?
Motto: "They that explain Me shall have life everlasting."
Practice: Take every opportunity of spreading devotion to Our Blessed Lady, especially by imitating Her virtues!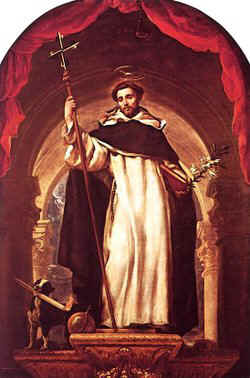 Of all the Saints who are famous for proclaiming, extolling and preaching about Our Lady, St. Dominic stands out as one whose preaching had an immediate impact upon the age in which he lived.
In 1203 Dominic went with Diego, Bishop of Osma, into France. As they crossed the Pyrenees and entered the province of Languedoc, they were confronted with the ravages of the Albigensian heretics.
Dominic's apostolic zeal instantly flashed out. With a tact equal to his charity, he converted the innkeeper who gave them shelter, on the first night of his arrival. Later he told a friend that this first success had suggested to his mind on the spot, the idea of an Order of Preachers.
The fellow travelers passed through Languedoc, and visited Rome. They turned homeward, re-entered Languedoc, and were on the point of leaving it when a mere accident, as we might call it, arrested their steps. Pope Innocent III had instigated a movement against the aggression of the Albigenses. Success had been slight, and the Catholics were at the moment in conference at Montpellier, deliberating on the gloomy outlook. They heard of Bishop Diego and Fr. Dominic de Guzmán passing through, and invited their counsel. The Bishop spoke with burning words to the Fathers and magnates, and declared his intention of remaining in the land, preaching the poverty of Christ. He was hailed as a leader of the Catholic mission.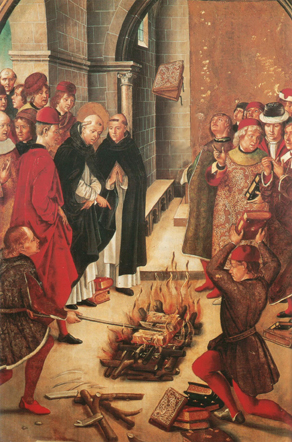 All went well. St. Dominic followed his Bishop as a simple preacher. His zeal and name soon filled the land. The Albigenses were amazed and angered by this new resistance. Their pride was checked by these humble men; their imperious conquests trembled. They took up with fresh fury the arts of deception; but in vain. At Fanjeaux occcurred a celebrated prodigy. A public thesis written by St. Dominic was put to the ordeal by fire. A document written in opposition by the Albigenses was cast into the flames and consumed. St. Dominic's was thrown out of the fire three times unscathed. This miracle was noised abroad and converted many. It is sculptured in marble on the Saint's tomb at Bologna.
A little town by the Pyrenees, 30 miles from Toulouse, was the first place to receive the impression of his religious rule. Here he provided for the education of Catholic girls by founding a small convent of nuns.
A sudden storm of war both tested and sheltered this refuge created by the zeal of the great preacher. Bishop Diego died, the Catholic missionary effort collapsed, and hostilities broke out between the Catholics and the Albigenses.
"St. Dominic," says Blessed Humbert, "left almost alone, with a few companions who were bound to him by vow, during 10 years upheld the Catholic Faith in different parts of Narbonne, especially at Carcasonne and Fanjeaux. He devoted himself entirely to the salvation of souls by the ministry of preaching, and he bore with a great heart a multitude of affronts, ignominies and sufferings for the Name of Jesus Christ."
"It was necessary," says the chronicler, "that he who loved God so much should love men dearly. As a youth he sold his books and other things, and he wished to sell himself as a slave to ransom a Christian from the Moors. Nor was he less illustrious in consoling unhappy men and alleviating their lot, than in teaching them the truth. For he desired nothing more ardently than to help them on the way to Heaven. Thus he embraced in the widest charity all sorts of men, nobles and peasants, Jews and pagans. He disputed with heretics, but nevertheless he admonished them cheerfully and mildly to embrace the Catholic Faith."
It was during this time, in 1208, while St. Dominic knelt in the little chapel of Notre Dame de la Prouille, and implored the great Mother of God to save the Church in this part of the world, that Our Blessed Lady appeared to him and gave him the Rosary. She bade him go forth and preach, and explain to the people how to say the prayers of the Rosary on the beads, while meditating on the 15 Mysteries. In the Office for the Feast of the Most Holy Rosary, it is declared that, "he was admonished by the Blessed Virgin Mary to preach the Rosary to the people as a singular remedy against heresy and sin." More than a dozen Popes have attested to this tradition, including Pope Leo XIII, who wrote: "The belief that to this form of prayer a special power has been accorded by the Queen of Heaven is justified, because by Her instigation and under Her patronage it was introduced by the holy Father Dominic, and it was spread in a time hostile to everything Catholic, much like our own, and as a powerful means of opposing the enemies of the Faith effectually… The sect of the heretical Albigenses had found its way secretly and publicly into many Provinces. This detestable off-shoot of the Manicheans, whose numerous errors it revived, spread hypocrisy, murder, and a deadly hatred towards the Church. Human help against these insidious, audacious people was hardly to be expected, but the Rosary sent by God came to our aid by the power of the Blessed Virgin, the glorious destroyer of all heresies."
Count Raymond of Toulouse, the leader of the Albigenses, was among the vilest of all the tyrants of the Middle Ages. His perjured banners sheltered hordes of lawless men, hired and fighting for pay and plunder. The words of Pope Innocent III fully bear out the vile character of Raymond and his followers: "Suffer not the Church to perish," he wrote to the kings of England and France, "in this unhappy country, but come to Her assistance and combat valiantly against these heretics, who are worse than Saracens."
At the head of the Catholics was Count Simon de Montfort. He was in all respects the opposite of Raymond. He was a brave man, truthful and religious, a worthy leader in the true cause, a fit heir to the chivalry which rescued the Holy Sepulcher. Under these two leaders the war rolled on with varying success, until 1213.
Beleaguered in the town of Muret, de Montfort, with only 800 horsemen, suddenly, by an extraordinary inspiration, threw himself upon the foe, 40,000 strong, with great force and speed, scattering them like chaff before the wind, losing only eight men. The king of Aragon, Raymond's ally and kinsman, was slain, and the enemy wasted away like the hosts of Sennacherib. No wonder that this victory was considered to be nothing less than a miracle. De Montfort attributed the result to the prayers of the Rosary, and out of gratitude he built the first chapel in its honor at Muret.
As great as this military victory was, the spiritual victory of St. Dominic and the Rosary was even greater. St. Dominic gathered more and more disciples to preach about Our Lady and Her powerful means of grace. Countless thousands of heretics were converted and the Albigensian heresy was effectively stamped out.
St. Dominic went to his eternal reward on August 6, 1221, less than five years after the approbation of his Order of Friars Preachers. He left behind him a spiritual family which continued to preach Our Lady and Her Rosary through the centuries.
Contact us: smr@salvemariaregina.info
Visit also: www.marienfried.com