Titles of Our Lady from the Litany of Loreto
Mystical Rose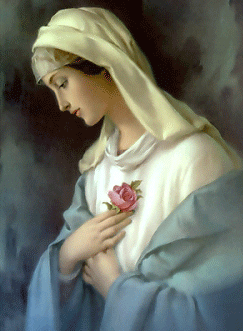 How often in the Gospel Our Lord instructs us by some example drawn from Nature. He tells us to look at the birds and observe how God feeds them day by day, how He takes care of the sparrows, so that not one falls to the ground dead, without His noticing it. We are bid to admire the beauty of the flowers of the field; not even Solomon in all his glory was arrayed as one of them. Christ spoke of the common things He saw around Him, of the vines, the fig-trees, the corn-fields ripe for the harvest, the cockle among the wheat, the sheep and the shepherds, water, bead and wine, trees and fruits, seed-time and harvest-time; and from all these common, homely objects He drew spiritual lessons for our benefit.
If we turn to the Old Testament, the Book of Wisdom especially, we find the same truth insisted on—that we are to learn from natural objects and the daily occurrences around us, from the ant and the bee, from the birds, and the insects, and the seasons.
All this should bring home to us the truth that in every cranny of the world of Nature we can find some divinely intended lesson—that the things of the earth, passing as they are, are shadows, emblems, and types of things spiritual and eternal.
What then is the lesson of flowers? We may look upon them as representing the beauty of virtues. The rose, for instance, which we call the queen of flowers, stands for charity, the queen of virtues. All the most lovely things in Nature are pressed into service to bring home to us the beauty of Mary's soul—flowers, gardens, stars.
And as the rose reigns by universal consent as the lovely queen of flowers, so Mary, the Woman clothed with the sun, which is charity, shines as the fairest flower in God's garden and is acclaimed as the "Mystical Rose." Our Lord has told us quite plainly that love for one another is the distinctive mark of His disciples. "By this shall all men know that you are My disciples, if you have love one for another."
Never was there anyone who loved God and Her neighbor as did Mary. Our Lord said: "If you love Me, keep My commandments… This is My commandment, that you love one another."
Think for a moment how Mary practiced this commandment. We have already gazed upon Her in Her charity at the Visitation, bringing to Elizabeth the grace She had just received. Her first thought is to share it with another. At the marriage feast, Her love and compassion force Her, who was always so silent and retiring, to speak two out of the seven words (phrases) of Hers which are on record. To Our Lord She says: "They have no wine." Her quick sympathy made Her dread the discomfiture of Her hosts at this humiliation—so sweet, so compassionate is She. To the waiters, in Her eagerness to give help, She says: "Whatsoever He shall say to you, do ye."
St. Thomas says that he who loves God, loves all that God loves. St. Catherine of Genoa one day said to Our Lord: "Lord, Thou willest that I should love my neighbor, and I can love none but Thee." And Our Lord said: "All who love Me love what I love." And we have seen that what Our Lord loves above all is souls, the souls that He died to save. St. Bonaventure tells us that it was said of Mary that She was "eager to serve." "See," he says, speaking of the marriage feast of Cana, "see Our Lady eager to serve, solicitous, alert in handling things round, and directing the servants how and what to offer to the guests."
What a great and admirable thing that is, to be eager to serve others! We should all aim at this: it will be the remedy for many of our faults, for pride and selfishness and vanity and self-occupation, and it will make us resemble Jesus and Mary, for Jesus says of Himself, "I am in the midst of you as one that serveth." Let this be our first thought wherever we may be, "How can I help?"
Mary loves what Her Divine Son loves, and hence She loves souls. On Calvary, when She saw Jesus, Her one Treasure, tortured, agonizing, bleeding, insulted, there was no ill-will against the executioners in Her mind, but She freely offered Her Son for their salvation and that of the whole world. Like Jesus, She "loved to the end."
But we must not be satisfied with merely gazing upon Our Mother, the Mystical Rose, we must strive with all our hearts to imitate Her in Her love for God and man. We shall then be Her little mystical rosebuds, and She will look down on and bless these blossoms of Her own beloved virtue. "Be ye merciful, as your Heavenly Mother is merciful," we may imagine Mary saying to us.
Let the thought of Our Mother, as the Mystical Rose of Charity, help us then, to fight those difficulties in the way of charity which everyone must have. Charity is not an easy virtue, though by practice it becomes delightful. There is the difficulty of forgiving those who have hurt us, who annoy us, who dislike us, of being kind to those who are unkind to us, not saying sharp things when we are cross and hurt, and of overcoming selfishness in all its manifestations, fighting for what we like, and what we want, not caring at all what others like or want.
Remember Mary's words: "They have no wine." Her one thought was to spare others suffering, shame, and confusion, and even when Jesus said that His hour was not yet come, She still exerted Herself to help: "Whatsoever He shall say to you, do ye." Do not, then, always wait till you are asked to do a kind deed. Be on the watch to see how you can serve others and help them, and you will, in your own sphere, resemble your Mother, the Mystical Rose, in Her love and charity.
Motto: "Charity is kind; charity seeketh not her own."
Practice: Often read and ponder St. Paul's description of charity in his First Epistle to the Corinthians, Chapter 13.
Example—Our Lady of Pellevoisin
Read the full story of this Apparition.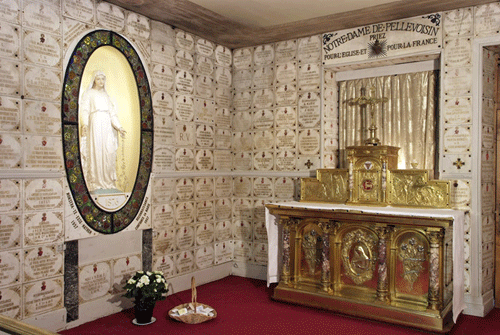 In May, 1875, Estelle Faguette, maid to Countess de la Rochefoucauld, was dying of a complication of diseases, including a severe tumor and consumption. A novena was held to Our Lady, and Estelle was removed to a house at Pellevoisin. On Sunday, the 13th of February, the sick girl begged that a candle should be lit for her at Notre Dame des Victoires, and another at the altar of Our Lady of Lourdes, in the Jesuit Church in the Rue de Sèvres. These tapers were lit on Monday, and on Tuesday morning Estelle told the priest that she had seen the Blessed Virgin, and that she would be either dead or cured on the following Saturday. No one believed her, but on Saturday after Communion, the priest ordered her to make the Sign of the Cross with her right hand, of which she had lost the use on account of the tumor in her shoulder. She obeyed, crying out: "I am cured!" This was Saturday, February 19, at eight o'clock in the morning. She ever since enjoyed perfect health, and recorded in writing the fifteen apparitions with which Our Lady favored her—five before, and ten after, her cure.
In the first five apparitions, Our Lady promised Estelle that she would be cured, but with a condition. "If My Son restores you to life, I wish you to publish My glory," She said in the first apparition, and indicated that this was to be done at Pellevoisin.
In the third apparition, the Blessed Virgin told Estelle: "I am all-merciful, and the Mistress of My Son. Your good works and fervent prayers have touched My Motherly Heart. Among others, that little letter you wrote to me in the month of September. What moved Me was the phrase, 'See the sorrow of my parents… Remember what Thou didst suffer when Thy Son Jesus was stretched out upon the Cross'."
In the fifth apparition, Our Lady lovingly complained: "What afflicts Me most is the want of respect shown by some people to My Divine Son in the Holy Eucharist and the attitude taken for prayer, when, at the same time their minds continue to be occupied with other things."
The All-Merciful Mother appeared again after Estelle's cure, beginning in July. At the seventh apparition, on the Feast of the Visitation, She confided to Estelle a secret and then said: "You have already published My glory. Continue to do so. My Son has also some souls attached to Him. His Heart bears such love for Mine that He cannot refuse Me any requests. Through Me He will touch the most hardened hearts."
In September, She appeared on the Feast of the Holy Name of Mary. She gently admonished Estelle: "You deprived yourself of a visit from Me on the 15th of August; you were not sufficiently calm. You have indeed the French character, wishing to know all without learning anything, and to understand everything before knowing it. I would have come to you (on the Feast of Her Nativity) also; again you deprived yourself of it. I was waiting for this act of submission and obedience from you. For a long time the treasures of My Son have been open. Let them pray." Saying these words She raised the small piece of woolen cloth which She wore upon Her breast. Estelle had not previously noticed that the white scapular had a red heart on it. She realized at once that it must be the Scapular of the Sacred Heart. Our Lady said while holding it up: "I love this devotion… It is here I will be honored." Estelle understood that she was to work to spread the devotion of this Scapular.
In the apparition of September 15th, Our Lady said: "I will remember the efforts you have made to be calm. It is not only for your own sake I ask this, but also for that of the Church and for France. In the Church there is not the calm I desire." The Blessed Virgin sighed and shook Her head, saying: "There is something else, then." She did not say what it was, but Estelle understood that there must be some discord. Then She continued: "Let them pray and let them have confidence in Me… And France, what have I not done for her? How many warnings, and yet she refused to listen! I can no longer restrain My Son… France will suffer!" She laid particular emphasis on these words.
Several more apparitions followed, during which Our Lady encouraged Estelle in the work entrusted to her and comforted her in her trials. In the final apparition, December 8, 1876, Our Lady told Estelle: "I have chosen you to publish My glory, and to spread this devotion… You will go yourself and see the Prelate. You will present to him the model Scapular you have made. Tell him that he is to help you with all his power, and that nothing will be more acceptable to Me than to see this livery on each of my children, and that they all endeavor to repair the outrages received by My Divine Son in the Sacrament of His Love. See the graces I will bestow on those who will wear it with confidence, and who will assist you in propagating it." While thus speaking the Blessed Virgin stretched out Her hands and from them there fell an abundant rain, in each drop of which Estelle seemed to read such graces as piety, salvation, confidence, conversion, health; in a word, all sorts of graces of varying degrees. Then Our Lady added: "These graces are from My Divine Son; I take them from His Heart; He can refuse Me nothing." Estelle asked, "My good Mother, what should be on the other side of the Scapular?" Mary replied: "I reserve it for Myself; you will submit your thought and the Church will decide."
Estelle knew this would be the final apparition and felt deeply grieved. As Our Lady ascended Heavenward, She looked at Estelle and said: "Courage! ... Fear nothing, I will assist you." Then She disappeared. Fifteen persons were witnesses of this last apparition, although, just as at Lourdes and Fatima, they could not see or hear the Blessed Virgin.
Eventually the work entrusted by Our Lady to Estelle met with success, although the apparitions themselves were never formally approved. Pope Leo XIII bestowed the title of Archconfraternity upon the pious association begun in Pellevoisin under the title of All-Merciful Mother. In 1900 Estelle met privately with Pope Leo XIII. After hearing Estelle's account of the apparitions, the Holy Father agreed with the warning that France would have much to suffer. He then approved the Scapular, commonly known as the White Scapular, and requested that Estelle pray that he may be given a few more years to serve the Church. In fact, the 90-year-old Pontiff lived three more years.
Contact us: smr@salvemariaregina.info
Visit also: www.marienfried.com