Mary in Doctrine and Devotion
The Life of Mary in the Gospels
Fifth in a Series
James Spencer Northcote was a convert to Catholicism, having been a married Anglican minister. At the death of his wife, also a convert, he entered the Catholic priesthood and eventually became president of St. Mary's College at Oscott. Between the years 1856 and 1860 he gave a series of lectures to refute the Protestant claim that, according to the Bible, the Blessed Virgin Mary is nothing but an ordinary woman. They were later published, and furnish some of the best rebuttals in print against those who attack Catholic devotion to our Beloved Mother Mary. We present them in a slightly condensed form.
The Annunciation
The angel Gabriel was sent from God into a city of Galilee, called Nazareth, to a virgin espoused to a man whose name was Joseph, of the house of David: and the virgin's name was Mary. And the angel being come in, said unto her: Hail, full of grace, the Lord is with thee: blessed art thou among women. Who having heard, was troubled at his saying and thought with herself what manner of salutation this should be. And the angel said to her: Fear not, Mary, for thou hast found grace with God. Behold thou shalt conceive in thy womb and shalt bring forth a Son: and thou shalt call His name Jesus. He shall be great and shall be called the Son of the Most High. And the Lord God shall give unto Him the throne of David His father: and He shall reign in the house of Jacob forever, and of His kingdom there shall be no end. And Mary said to the angel: How shall this be done, because I know not man? And the angel answering, said to her: The Holy Ghost shall come upon thee and the power of the Most High shall overshadow thee. And therefore also the Holy which shall be born of thee shall be called the Son of God. And behold thy cousin Elizabeth, she also hath conceived a son in her old age: and this is the sixth month with her that is called barren, because no word shall be impossible with God. And Mary said: Behold the handmaid of the Lord: be it done to me according to thy word. (Luke 1: 26-38).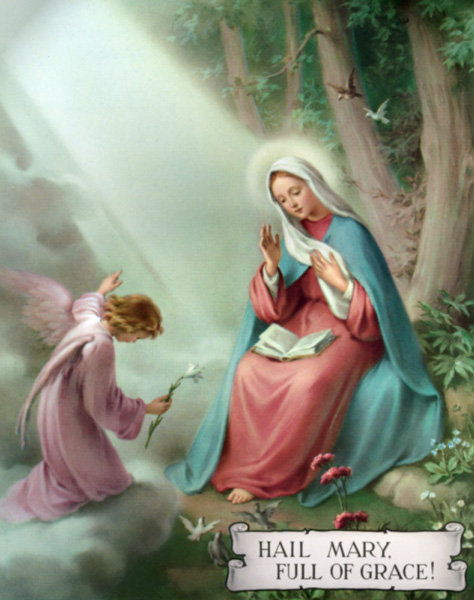 This passage of the Gospel not only records the crown and center of Mary's life, all that precedes having tended to this end, and all that follows being only the overflow (as it were) of its fullness, but it records that which is also the center of the world's history, round which move the very destinies of Heaven and earth. It records the Incarnation of the Son of God; for the Annunciation and the Incarnation are in fact one and the same Mystery.
Everybody who believes in the Incarnation at all, must needs think of Mary as singularly blessed and privileged in having been the chosen creature in whom that Mystery should be accomplished; but not everybody duly appreciates Her share and position in the Mystery. They are apt to think of Mary's quality as Mother of Jesus, as though it were some merely external and accidental glory, with which She had no more real and personal connection than ordinary mothers have with the greatness with which their sons may happen in after-life to be distinguished; or again, they think of Mary as though She had been an involuntary, almost an unconscious instrument in the hands of God; they do not recognize the act of Her own direct co-operation, which yet was surely there. These then are the points to which I would especially invite your attention in considering the scene before us.
First, let us examine the words of the Angel's salutation to Mary—the very same with which the Church has ever since delighted to honor Her. I will not detain you by discussing the difference between the Protestant and Catholic versions of the text, in their translations of a single word, which however cannot fail to have struck you. "Hail, full of grace," is the Catholic version; "Hail, thou who art highly favored," is the Protestant, which adds moreover, in the margin, "graciously accepted, or highly graced." This variation is important, as indicative of widely different doctrines on the subject of grace; but upon these we must not enter. I will only observe that our translation is that, not only of the Latin fathers, but also of the ancient Coptic and Syriac what is the literal translation of the word used in the Greek, expressing versions of the Bible, and embodies in a very forcible form what we cannot doubt to be the truth, viz., that Mary had been long and duly prepared for this supreme moment by many and great graces, plentifully bestowed and faithfully corresponded with during all the years of Her life that were past, until at length She, who was always "full of grace," reached that glorious moment when She was to receive into Herself the very Author and Giver of all grace, that She might give Him forth to the world.
Yet we must not so understand this epithet, as though She had now attained to the very highest crown and consummation of grace which She could ever reach. For it would be contrary to all analogy, and quite inconceivable, that She should have received no increase in grace from the Incarnation itself, which was not yet accomplished when these words were spoken, and from the nine-months' childbearing, from Her faithful and loving attendance on Her Divine Son during His life, from Her Compassion with Him during His death, and Her long years of patient expectation after He had gone back into Heaven. She was full of grace according to the present measure of Her capacity; but the soul that is faithful in its use of grace received, is itself enlarged so that it may receive more grace; and so, though ever remaining full, its fullness at one time will exceed its fullness at another. We need not be surprised then if others besides Mary have sometimes been said to be full of grace, such as St. Stephen, for example, just before his martyrdom (Acts 6: 8). But this does not necessarily put St. Stephen on terms of equality with our Blessed Lady, any more than these same words spoken about Herself, put Her on an equality with Her Divine Son, of Whom St. John testifies, "the Word was made flesh, and dwelt amongst us, full of grace and truth" (John 1: 14). We may say of a brook, a river, and a fountain, that they are all full of water; they are not, however, on that account equal with one another; their fullness is proportioned to their nature. Now God gives grace to everyone proportioned to the work and office, or dignity for which He destines him, according to that which is said by St. Paul, "God hath made us fit ministers of the New Testament" (2 Cor. 3: 6); i.e., by His grace He has made us fit to fulfill that ministry to which He has called us. God then, having chosen and called the Blessed Virgin Mary to be the Mother of His Only-begotten Son, has bestowed upon Her a measure of grace proportionate to that high dignity; and since no dignity within the reach of creatures can be named or thought of (as St. Anselm says), which is not surpassed by this incommunicable privilege of being made the Mother of God, Mary must needs have received from Him a greater fullness of grace than all other creatures whatsoever, to enable Her to bear it well, and to fulfill the duties belonging to it.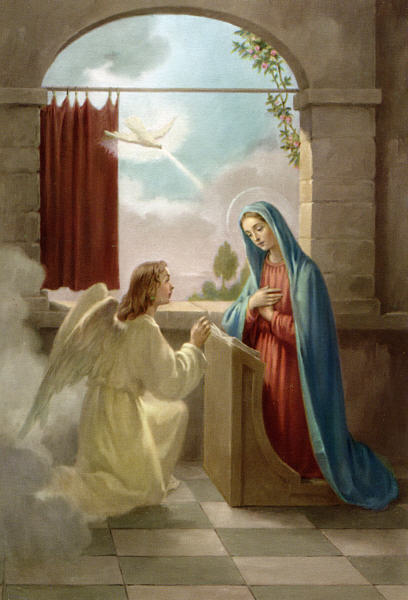 The Angel continues his address by saying, "the Lord is with Thee." Some persons indeed, insisting upon the absence of any verb in the original text, have proposed to read here, "the Lord be with Thee," instead of "the Lord is with Thee;" following the form of a prayer or pious salutation, such as was not unknown among the ancient people of God, and is continued to this day in the Mass and other Offices of the Church. It was thus that Booz saluted the reapers, as he came out of Bethlehem. "He said, 'The Lord be with you,' and they answered him, 'The Lord bless thee.' " (Ruth 2: 4) Even Protestants, however, have generally felt the necessity of giving the more direct and positive interpretation to the words in this place, as must manifestly be done in another place of the Old Testament, where an Angel used the same words under circumstances which it will be worthwhile to set side by side with some of the circumstances of the Annunciation. We read in the Book of Judges (6: 12), "The Angel of the Lord appeared to Gedeon and said, 'The Lord is with thee, O most valiant of men.' And Gedeon said to him, 'I beseech thee, my Lord, if the Lord be with us, why have these evils fallen upon us? Where are His miracles which our fathers have told us of?' " Here the answer of Gedeon makes it plain that we must understand the Angel to have announced a fact, not merely given utterance to a prayer or desire. The Angel came as bearer of a message from Heaven, a Divine commission to Gedeon, "in the strength of which he is to go and deliver Israel out of the hand" of their enemies; and he therefore very naturally begins by giving him the assurance of God's special presence with him, as the most certain pledge of future assistance and victory. So also, to Mary, the Angel is bearing a message from Heaven, announcing the approaching deliverance of the true Israel out of the hands of their enemies forever; and in addressing this chosen instrument by whom the coming deliverer is to be born into the world, it is not to be wondered at that he should give a similar assurance.
But (it is objected) God is everywhere, and everywhere equally; and St. Bernard answers, "So indeed He is, according to His simple, indivisible essence; nevertheless He exists in His creatures in different ways: in those that are endowed with reason, in one way; in irrational creatures, in another; and of those creatures that are rational, He exists in the good in a different way from that in which He is in the bad. His irrational creatures have no means of apprehending or possessing Him. All rational creatures may indeed apprehend Him by knowledge, but only the good by love. Only in the good does He so exist as to be with them as well as in them; with them, by a certain harmony and agreement of will; and as long as men so submit their wills to justice, so that there is no dissent between God's will and theirs, they join themselves to God in a very special way; and in this way God is with all the Saints. But He is with Mary in a yet more special manner, for in Her there was so great an agreement and union with God, that not only Her will, but Her very flesh, was to be united with Him; and from the substance of God and of the Blessed Virgin, one Christ was made, Who was not all from God nor all from the Virgin, and yet was wholly His and wholly Hers, without being two Sons, but One, the Son of each."
Thus far St. Bernard, speaking in exact agreement with the language of the Athanasian Creed, which teaches us that the right Faith is that we believe and confess that Our Lord Jesus Christ, the Son of God, is God and Man; God of the substance of the Father, begotten before the world, and Man of the substance of His Mother, born in the world. The Saint continues: "Well then may the Angel exclaim to Mary, 'the Lord is with Thee;' for Thou hast been chosen, O most Blessed amongst women, to give birth to Him Whose very Name had long since been declared by the Prophets to be Emmanuel, 'God with us;' and not only is God the Son with Thee, Whom Thou didst clothe with Thy flesh, but also God the Holy Ghost, of Whom Thou didst conceive, and God the Father, Whose only-begotten Son Thou didst conceive. The Father is with Thee, for He makes His Son to be also Thy Son; the Son is with Thee, for Thou art She who shall give Him forth to the world; the Holy Ghost is with Thee, for with the Father and the Son He sanctifies Thy womb, 'and therefore also the Holy, which shall be born of Thee, shall be called the Son of God.' Truly then the Lord is with Thee in a singular and pre-eminent manner, far beyond anything experienced by Gedeon or any other of those heroes raised up from time to time to effect a temporary deliverance for Israel, as types and forerunners of Him Whom Thou hast been chosen to bear, and Who shall save His people from their sins."
The Angel concludes his address by declaring that Mary was an object of singular predilection, "Blessed art Thou among women." Gedeon had been addressed by the Angel as "most valiant of men," because valor was the quality specially needed in the mission on which he was to be sent; it was this which was presently to be put to the test and to prevail. But to Mary Gabriel said, "Blessed art Thou among women," for a blessing it was which he was come to announce; or rather, it was the blessing which had been promised ever since the world began, and was now at length to be fulfilled. The world had once been cursed, and that original curse had come through a woman's fault; but now it was to be redeemed, and the blessing which is to redeem it comes through Mary. Hence it is that the heavenly messenger declares Her to be "blessed among women;" St. Elizabeth, "filled with the Holy Ghost," salutes Her first with this same word; Mary too prophesies it of Herself as Her own special title throughout all generations, and the faithful of the whole world never cease to repeat it.
Similar words had been used indeed before, on more than one occasion. It was part of the song of Debbora the prophetess over the death of Sisara and the consequent destruction of Chanaan—"Blessed among women be Jahel, the wife of Haber the Cinite," by whom that death had been effected. (Judges 5: 24) Ozias, too, the prince of the people of Israel, had said to Judith, "Blessed art Thou, O daughter, by the Lord the Most High God, above all women upon the earth. Blessed be the Lord Who made Heaven and earth, Who hath directed thee to the cutting off the head of the prince of our enemies. Because He hath so magnified thy name this day, that thy praise shall not depart out of the mouth of men who shall be mindful of the power of the Lord forever." "... And all the people adored the Lord, and said to her, 'The Lord hath blessed thee by His power, because by thee He has brought our enemies to naught'." (Judith 13) I do not know of any other occasion on which this expression, "Blessed art thou amongst women," is used in the Old Testament; and it is certainly remarkable that in both these instances the women thus distinguished had done signal services to the Israelites by slaying their special enemies. Shall we be accused of doing violence to Holy Scripture, if we venture to see in these women faint types of that Woman who was one day to crush the head of the great enemy of mankind; types falling short of Her whom they foreshadowed, even as the famous men of the Old Law, Moses, Josue, Samson, David and the rest, fall infinitely short of Jesus Christ Our Lord, of Whom, nevertheless, they are confessedly typical? At any rate the reference to these incidents may serve not only to illustrate, but also to give life and vigor to our comprehension of the Angelic salutation of Mary—a salutation which, considering who it is that makes it and to whom, an angel sent by God to an obscure maiden living in a despised town of Judea, far surpasses in the magnificence of its praise every other form of words addressed to any of the daughters of Eve.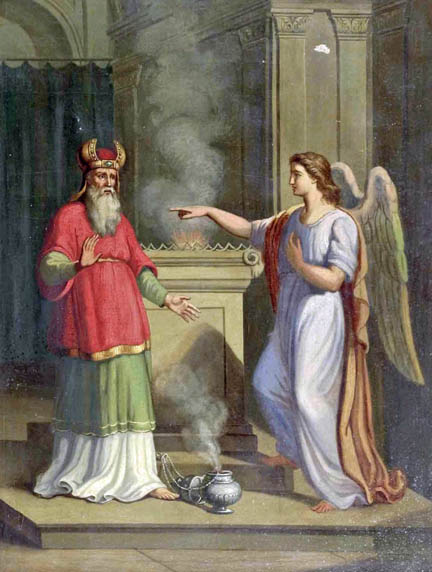 It follows next to consider Mary's answer to the salutation. For a while She is silent. She has heard the words that were spoken, but She is "troubled at the saying, and thinks within Herself what manner of salutation this should be." Observe with what precision the Evangelist records the cause of Her trouble. He fixes it beyond dispute (by a double notice) to the words that had been spoken, not to the fact of the Angelic apparition itself, but to the "manner of his salutation." On the contrary, when the Angel came to Zachary, the same Evangelist tells us that "Zachary, seeing him, was troubled, and fear fell upon him." The difference between the two records is very noticeable, and it has not escaped the observation even of some Protestant commentators, as, for example, Grotius, who says, "Zachary is troubled at the appearance of an angel, Mary only at his words." And why was She troubled at his words? Words of praise fill the truly humble soul with trouble and confusion, even more readily than words of blame and reproach trouble the souls of the proud; and both are troubled for the same reason, viz., because the words addressed to them are in such direct contradiction to the habitual thoughts and feelings of their hearts. Insulting or contemptuous words trouble the majority of mankind, because most men do all they can to hide their faults from themselves as well as from others; they think of them as little as possible, but rather dwell with secret complacency upon their fancied excellences, and often entertain themselves with the thought of these. Words of praise, therefore, they are always prepared for; they harmonize well with their habitual frame of mind, and they are not much moved by them, except there be something in the dignity of the speaker or the occasion on which they are spoken which specially excites their vanity. An ordinary Jewish maiden receiving such a salutation from an angel as Mary received, might have appropriated to herself the blessing spoken without any misgiving or "trouble;" she would have known that it was a promise which had been made long since to her nation, and she might have thought within herself, "Why should it not be fulfilled in me as well as in any other?" But Mary, always occupied before God with the thought of Her own unworthiness, and esteeming Herself as the least of God's creatures, then hearing Herself suddenly saluted as "full of grace and blessed amongst women," was "troubled at the saying, and thought with Herself what manner of salutation this should be." "She was troubled," says St. Bernard, "but not frightened; troubled by reason of Her modesty and humility; not frightened, by reason of Her courage; silent and thinking with Herself, by reason of Her prudence."
The Angel therefore encourages Her, saying, "Fear not, Mary, for Thou hast found grace with God." This reference to God as the fountain of all grace and the source whence this great blessing was sent, was designed to reassure a soul lost in the consideration of its own nothingness. The Angel might go on now and unfold in detail the Royal secret with which he had been entrusted, for She was prepared to receive it. "Behold, Thou shalt conceive a Son, and Thou shalt call His name Jesus. He shall be great, and shall be called the Son of the Most of High; and the Lord God shall give unto Him the throne of David His father, and He shall reign in the house of Jacob forever." And Mary said to the Angel, "How shall this be done, because I know not man?" Mary, troubled before by Her humility, now answers with unruffled calm to the Angel, that is, to God; and She answers by asking a question. The Angel had proclaimed great and glorious things of the Son that would be born of Her, of the throne which He would occupy, and the everlasting kingdom He would govern. Not one of these things moves or troubles Her. She simply believes and accepts them all as the design of God; but prudence, nay necessity, required Her to ask, how this would be; for, as we learn from Her own words, She had made a firm purpose of leading a virginal life, and She feared that the Angelical announcement could not be reconciled with this. "How shall this be done, because I know not man?" Not how can this be done, as though She doubted God's power, but how shall it be, consistently with what She knew and purposed about Herself? The Angel respects and removes Her concern, by explaining that the Conception and Birth of Jesus would not be after a natural manner, not a work of man, but the operation of God; and immediately Mary replies, "Behold the Handmaid of the Lord; be it done unto me according to thy word."
Upon these words it is enough to quote the exclamation of St. Alphonsus Maria Liguori: "O what more beautiful, more humble, or more prudent answer could all the wisdom of men and angels together have invented, had they reflected for a million years!" Consider its wonderful humility. It has just been announced that God is about to fulfill in Her all those promises which had been the very life and hope of the whole nation for centuries past, ever since the call of their father Abraham; that She is to be exalted to that ineffable privilege, the most distant participation in which had been an object of envy to every Jewish maiden from generation to generation; that of Her was to be born the Messias, the desired of all nations; yet there is not a word, a thought of self and of Her own exaltation to such unparalleled greatness, but only the most ready acknowledgment of Her own nothingness in God's sight: "Behold the handmaid of the Lord." At the same time there is the most perfect and hearty obedience: "Be it done unto me according to Thy word." Unlike Moses, who, when receiving a commission from God, answered and said, "Who am I that I should go to Pharaoh?" and who, after one and another miraculous token, still persisted in deprecating the charge, saying, "I beseech Thee, Lord, send whom Thou wilt send," (Ex. 3: 4) until at length God was angry at him; unlike Gedeon, who being commanded by the Angel of the Lord to go and deliver Israel out of the hand of Madian, answered and said, "I beseech Thee, my Lord, wherewith shall I deliver Israel? Behold my family is the meanest in Manasses, and I am the least in my father's house;" unlike Ananias at Damascus, who, when commanded in a vision to arise and seek Saul of Tarsus, answered, "Lord, I have heard by many of this man, how much evil he hath done to Thy saints in Jerusalem;" (Acts 9: 13) unlike so many others of God's chosen servants, called from time to time for the accomplishment of some great work, some special mission, Mary does not shrink from what is laid upon Her; Her humility does not degenerate into cowardice, nor hinder obedience; and this, because it is built upon faith. Her low esteem and diffidence of Herself is counterbalanced and supported by the most unbounded confidence in God. She knows that He is able to do all things whatsoever He wills, that He chooses the weak things of the world to confound the strong, and that though Heaven and earth should pass away, yet shall not one iota of His word fail; and therefore She obeys at once, offers Herself to do and to suffer whatever He pleases, because She believes with a firm, unhesitating faith that this messenger has come from God, and that every word which he has spoken shall be fulfilled.
Here again, Her conduct stands out in striking contrast with that of others, to whom at various times God has sent similar heavenly messengers. Thus Gedeon, of whom we have spoken so often, said to the Angel, "If I have found grace before the Lord, give me a sign that it is Thou that speakest to me;" and at a later period, even after he had experienced the singular protection of God under circumstances of danger, he again and yet a third time, asks from God a new sign to reassure him of His help. "Gedeon said to God, 'If Thou wilt save Israel by my hand, as Thou hast said, I will put this fleece of wool on the floor: if there be dew on the fleece only, and it be dry on all the ground beside, I shall know that by my hand, as Thou hast said, Thou wilt deliver Israel;' and it was so... And he said again to God, 'Let not Thy wrath be kindled against me if I try once more, seeking a sign in the fleece. I pray that the fleece only may be dry, and all the ground wet with dew.' And God did that night as he had requested... Then Gedeon, rising up early," proceeded on his mission. So too, Zachary had said to the Angel, " 'Whereby shall I know this, that my wife shall bear a son, since I am an old man, and my wife is advanced in years?' And the Angel answering said to him, 'Because thou hast not believed my words, which shall be fulfilled in their time, therefore thou shalt be dumb, and shall not be able to speak until the day wherein these things shall come to pass.' " How different is the language of Mary in answer to an announcement, far more difficult of belief than any that had been made before by God to man! Zachary the priest must have been familiar with the history of his nation; and the child-bearing of Sara in her old age, and of Anna, the mother of Samuel, should have made it easier for him to believe the promise of the Angel with regard to himself and St. Elizabeth. But what history had ever told of one born of a virgin? Yet Zachary doubted; and Mary at once believed; and hence, when She afterwards visited Her cousin St. Elizabeth, the wife of Zachary, that holy woman filled with the Holy Ghost proclaimed the praises of Her faith, saying, "Blessed art Thou that hast believed, because those things shall be accomplished that were spoken to Thee by the Lord."
Three times then, does the Angel speak to Mary, and three times She answers, in Her soul, though not always with Her lips; and by each reply She shows Herself both full of faith and understanding of this great Mystery, and also elevated and strengthened by grace to bear worthily Her own part in its completion. First, the Angel salutes Her with praises, and She answers by Her trouble, i.e. by Her humility, the necessary foundation of all Divine operations. Next, he tells Her of Her future maternity; and of the great destiny that awaits Her Son; and She receives the announcement with the calm of an invincible faith, and the caution of a supernatural prudence; a faith reasonable and intelligent, and a prudence only requiring to be enlightened as to Her own co-operation in the work, lest She should violate some promise made by Her to God and sully that purity which was so dear to Her and Him. Then the Angel explains more fully, adding marvel to marvel, and announcing wonders yet more wonderful than anything he had said before, and She answers with a promptitude of obedience which only such faith and such humility as Hers could have suggested. Had She remained silent, asking no questions at all throughout this angelic visitation, we might have doubted Her appreciation of its meaning; had She asked more, we might have doubted Her faith or Her obedience. As it is, we recognize in Her words, and in Her silence, in Her whole demeanor during that tremendous conversation (if we may so speak) between Heaven and earth, the words and the acts of the Virgin Most Faithful, the Virgin Most Pure, worthy to be celebrated as the Seat of Wisdom and the Cause of Our Joy by becoming the Mother of Our Redeemer.
Contact us: smr@salvemariaregina.info
Visit also: www.marienfried.com