St. Lucius I, Pope and Martyr (†253; Feast – March 4)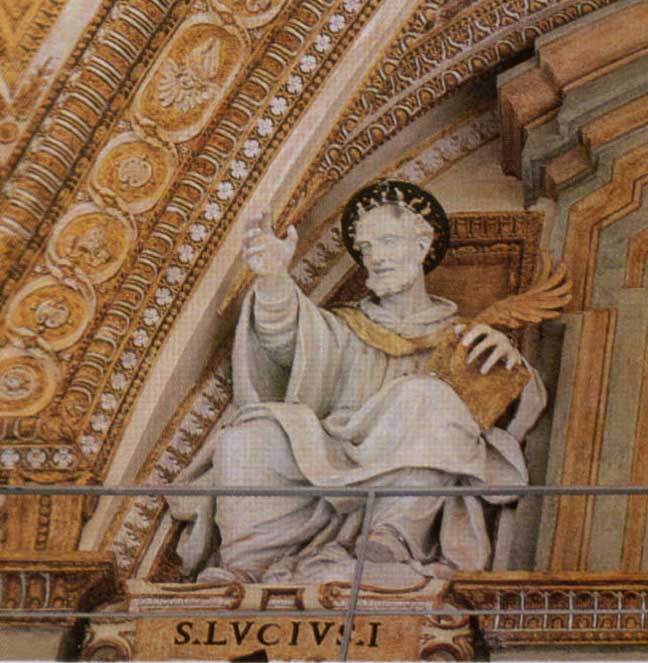 Saint Lucius I was a Roman by birth, and one of the clergy of that Church under the Holy Popes Fabian and Cornelius. The latter being crowned with martyrdom around 252, St. Lucius succeeded him in the Papacy. The Emperor Gallus having renewed the persecution of his predecessor Decius, at least in Rome, this Holy Pope was no sooner placed on the Chair of St. Peter, but was banished with several others. St. Cyprian, the great friend of St. Cornelius, wrote to congratulate him both on his election, and for the grace of suffering banishment for Christ. St. Lucius had been only a short time in exile, when he was recalled with his companions to the incredible joy of the people, who went out of Rome in crowds to meet him. St. Cyprian wrote a second letter of congratulation on this occasion, saying of St. Lucius: "He had not lost the dignity of martyrdom because he had the will, as the three children in the furnace, though preserved by God from death: this glory added a new dignity to his priesthood, that a Bishop assisted at God's altar, who exhorted his flock to martyrdom by his own example as well as by his words. By giving such graces to His pastors, God showed where His true Church was: for He denied the like glory of suffering to the Novatian heretics. The enemy of Christ only attacks the soldiers of Christ: heretics he knows to be already his own, and passes them by."
In other letters, St. Cyprian attests that St. Lucius continued, like his predecessor St. Cornelius, to oppose steadfastly the heresy of the anti-pope Novation, who denied that the Church had the power to absolve from the sin of apostasy. This potentially devastating heresy, and the schism of this anti-pope and his followers, were effectively stamped out by the efforts of the Holy Popes Cornelius, Lucius and Stephen, although remnants of Novatianism continued in some places for centuries.
The reign of St. Lucius was very short, perhaps only five or six months. He died on March 4th or 5th of the year 253 or 254, though we know not in what manner. It is possible that he is one of the many honorary martyrs, who suffered much for the Faith, and were willing to die for it, though their deaths were not directly caused by the enemies of Christ. However, the Liber Pontificalis maintains that he was martyred, and that he made over the care of the Church to his Archdeacon, who became Pope St. Stephen I. His body was found in the Catacombs, and is now venerated in the Church of St. Cecilia in Rome.
Contact us: smr@salvemariaregina.info
Visit also: www.marienfried.com