Saint Teresa of Avila, Virgin (†1582; Feast – October 15)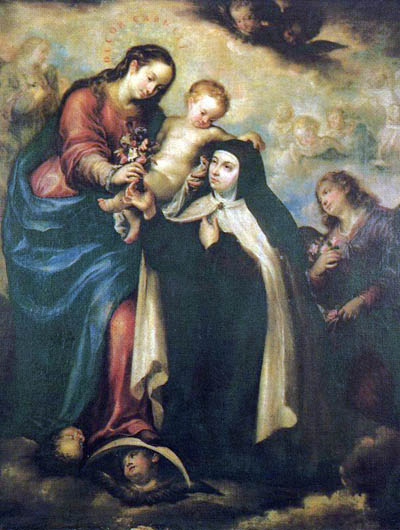 "Even though the Church Triumphant in Heaven and the Church Militant here on earth appear to be completely separated," says Bossuet on this Feast, "...there is this at least in common: that what the blessed spirits love, the same we mortals love. Jesus is their life; Jesus is our life..." (Panegyric on St. Teresa). Of this sovereign good of the Church Militant and Triumphant, St. Teresa, in a time of decadence, was commissioned to remind the world from the height of Carmel—restored by her to its pristine beauty. After the cold night of the 14th and 15th centuries, the example of her life possessed a power of irresistible attraction, which survives in her writings, drawing predestined souls after her in the footsteps of the Divine Spouse.
St. Teresa was born at Avila on March 28, 1515. Her father, Alfonso Sanchez de Cepeda, was a gentleman of a good family, and had three children by a first wife, and nine by a second—Beatriz Ahumeda, the mother of our Saint. By means of the pious instructions and example of her parents, God inclined the tender heart of Teresa from her infancy to His service. At the age of seven she took great pleasure in reading the lives of the saints and other pious books, in which she spent much time with a little brother called Rodrigo. They were much amazed at the thought of eternity—the martyrs seemed to them to have bought Heaven very cheaply by their torments; and after many conferences together on this subject, they resolved to go into the country of the Moors, in hopes of dying for their Faith. They set out privately with great fervor, but they were met by an uncle and brought back to their mother, who was in the greatest frights, and had sent him to seek them.
In her twelfth year, upon the death of her mother, Teresa, in great grief, threw herself upon her knees before a picture of the Blessed Virgin Mary, and besought Her, with many tears, that She would vouchsafe to be her Mother. The Saint afterwards considered this action very profitable to her—she found the Blessed Virgin favorable to her in all her requests and looked upon herself as much indebted to Her intercession for the great mercy by which God was pleased to bring her back to a sense of her duty, after she had begun to go astray.
The most dangerous snares into which she fell were those of worldly books and vain company. Novels were at that time much in fashion in Spain, and Teresa got hold of some such books a little before her mother died. She began to read them much more after her death, though always unknown to her father, who would have been highly displeased. About that time one of her cousins, a worldly young woman, addicted to vanity and fond of reading such books, began to visit her, and by her conversation wrought such a change in Teresa that, forgetting the greatest part of her former devotions, she spent several hours both of the day and night in reading novels with great pleasure. These books contained no serious evils; but they encouraged vanity and were a great waste of time. She began at the same time to curl her hair, to use perfumes, to love fine clothes, and the like—out of a desire of pleasing others, though without any bad intention; for she would not for the world have deliberately given to anyone an occasion of offending God. She continued some years without imagining there was in this any sin; and indeed her confessors judged that she had never committed any mortal sin. Nevertheless she herself considered in later years that these faults were grievous—for those vanities and books were dangerous occasions of greater evils than she had been aware of when she indulged in the use of them.
Her father perceived that her religious devotion had cooled, so he placed Teresa, at the age of fifteen, in a very devout convent of Augustinian nuns in Avila, where many young ladies of her quality were educated. The first eight days in the convent seemed tedious to her; but having by that time forgotten her former amusements, and broken the ties she had contracted with the world, she began to be pleased with her new situation and to lament over her past faults. A devout nun used frequently to instill into her mind serious reflections on virtue, and repeated often to her that dreadful truth: Many are called, but few are chosen. She soon recovered her fervor, and earnestly recommended herself to the prayers of the nuns that God would place her in that state in which she might be likely to serve Him best; though she had not then the courage to desire to be a nun herself.
After a year and a half spent in this convent, the Saint fell dangerously ill, and her father took her home. When she had recovered her health she went to see her eldest sister in the country; she also visited her uncle, Pedro Sanchez de Cepeda. He was a widower, and a very discreet and pious man. He lived retired in the country, where he employed his time in his devotions, and in reading good books. He gave several to Teresa to read, and his conversation was most commonly of God and of the vanity of this world. When she returned to her father's house, she began for some time to deliberate with herself about embracing the religious life. After a violent fever at home (for she often had bad health), she was determined to become a nun.
Her father, twice a widower, did not want her to follow this vocation until after his death. But the Saint fearing from former experience she might again relapse, though she felt an excessive severe interior conflict in leaving her dear father, went privately to the convent of the Incarnation of the Carmelite nuns, outside the walls of Avila. Upon her taking the habit, God changed the dryness under which she had labored for some time into an extreme tenderness of devotion, and all her religious observances gave her great delight. But during her novitiate she felt many severe interior trials, notwithstanding her constant great contentment in the religious state. She made her profession with extraordinary fervor in November, 1534.
A sickness, which seized her before her profession, increased very much after it, with frequent fits of fainting and a violent pain in her heart. Physicians finding no remedy for her extraordinary case, her father arranged for her to be removed from the convent (which was not then cloistered). Accompanied by Sr. Juana Suarez, she remained partly at her sister's home in the country, and partly at Bazeda—almost a year in the hands of certain able physicians. Their medicines served only to increase her distempers, insomuch that for the space of three months she suffered continual torments, and could take no rest day or night. Her father, after this, caused her to be brought to his own house, where the physicians gave her over. At length, in August 1537, she lay almost four days in a coma, during which time it was imagined that she was dead. A grave was dug for her in the convent, and she would have been buried had not her father opposed it, and testified that he still perceived certain symptoms of life. She came out of this coma, but her pains continued unabated for some time. She was so sore, that she could not bear anyone to touch her in any part, and she had often a great loathing of all food. At the least improvement, she so earnestly desire to return to her convent, that she was carried thither, though she was but skin and bone. She continued thus more than eight months, and remained a cripple nearly three years. It was during this illness that her devout uncle Pedro put into her hands a little book treating of prayer and recollection. She then applied herself to mental prayer, and was favored with spiritual gifts. Her physical condition gradually improved until, after about three years, she was perfectly restored to health; and she afterwards understood that she had received of God this favor, and many others, through the intercession of the glorious St. Joseph, which she had humbly and earnestly implored.
Once again, however, she began to return to her former faults. An affectionate and grateful disposition inclined her to make an obliging return to the civilities which others showed her. And finding herself agreeable to company, she began again to take delight in it. The laxity of her convent was such that she had permission to spend much time in conversing with lay people at the grate or door of the convent, and she contracted an intimacy with one whose company was particularly dangerous to her. She began to neglect mental prayer, and even persuaded herself that this was a part of humility—as her dissipated life rendered her unworthy to converse so much or so familiarly with God.
She received several warnings from God and others, but to no avail. Even the death of her father in 1539 had little effect on her spiritual life. Finally in her 24th year, her confessor—a pious and learned Dominican—made her understand that she was in a dangerous way and must return to mental prayer. She did so, and began to see her faults clearly. The goodness of God towards her, notwithstanding her sloth and rebellions, was to her a subject of continual astonishment, and a motive of the strongest love and gratitude. "Hence," she says, "proceeded my tears, together with a grievous indignation which I conceived against myself when I considered what a wretched creature I was; for I saw that I was still upon the point of falling again... I passed through this tempestuous sea almost twenty years, between these fallings and risings, though I rose very imperfectly, since I so soon relapsed." After this long time spent in the imperfect exercise of prayer, and with many defects, the Saint found a happy change in her soul. One day, going into the oratory and seeing a picture of Our Savior covered with wounds in His Passion, she was exceedingly moved, so that she thought her very heart was ready to burst. Casting herself down near the picture, and pouring forth a flood of tears, she earnestly besought Our Lord to strengthen her, that she might never more offend Him. From that time on she withdrew herself more than ever from all occasions of vain amusements and dissipations, and gave her time more entirely to the exercises of compunction and divine love. The Saint had scarcely formed her resolution of serving God perfectly, when He vouchsafed to visit her soul with new and extraordinary consolations and favors.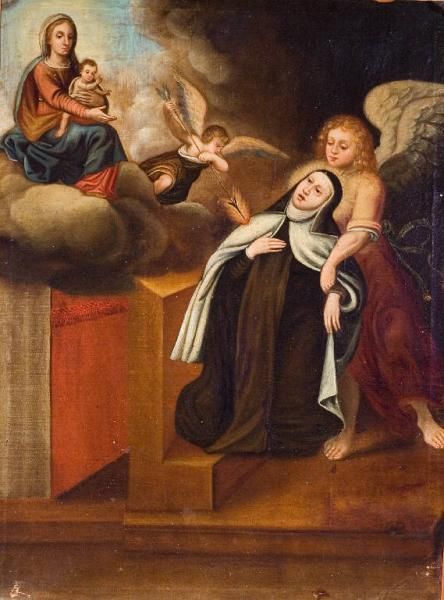 After some time, her soul began to be frequently raised by God to the more sublime degrees of supernatural passive prayer. The examples of certain women, who had been miserably the dupes of a deluded imagination and of the devil, terrified her; and though she was persuaded that her favors were from God, she was so much perplexed with these fears that she resolved to take advice. She consulted so many persons, though obliging them to secrecy, that the affair was divulged abroad, to her great mortification and confusion. One of her directors, Fr. Balthasar Alvarez de Paz, helped her greatly to make progress in holiness. In 1559 she conversed during several days with St. Peter of Alcantara. Few saints seem to have been more experienced in the interior life or better versed in the supernatural gifts of prayer than this holy man. He discovered in St. Teresa the most certain marks of the wonderful graces of the Holy Ghost, expressed great compassion for her sufferings from the contradictions and slanders even of good men and learned doctors, and he publicly declared that, except the truths of Holy Faith, nothing appeared to him more evident than that her soul was conducted by the Spirit of God. After this many other persons of the greatest piety, learning, and authority confidently declared the same.
God also deigned to prove her virtue by various miracles, notably levitations. When she was prioress at the convent of San José at Avila, as she was going to receive Holy Communion from the hands of Bishop Don Alvarez of Mendoza, the Saint was raised in a rapture higher than the grate which separated the nuns from the clergy. Domingo Bañez, a famous and very learned Dominican theologian, testified that the Saint one day, in public, as she was raised in the air in the choir, held herself down by some rails, and prayed thus: "Lord, do not permit, by such a favor, a wicked woman to pass for virtuous." He mentions other instances in the public choir; but says that, at her earnest request, this never happened to her in public during the last fifteen years of her life.
She sometimes saw the Mystery of the Trinity in so clear and wonderful a manner as to be much comforted and amazed. She was favored with many visions in the Holy Eucharist; and sometimes with apparitions of the Blessed Virgin, St. Joseph, and other Saints; and frequently of Angels of different choirs standing near her. One of these visions she describes thus: "I saw an Angel very near me… he had in his hand a long golden dart, and at the end of the point I thought there was a little fire; and it seemed to me that he thrust it several times through my heart... and left me wholly inflamed with the love of God."
The autobiographical account which the Saint has drawn up of these visions, revelations, and raptures, written out of obedience, carries with it the intrinsic marks of evidence. It is not possible to peruse it, along with her other writings, and not be convinced of the sincerity of the author, by the genuine simplicity of the style, scrupulous exactitude, and fear of exaggerating the least circumstance, making what might be doubtful appear certain, or in the least advancing anything which might be false, or allowing anything to conjectures; also by her unfeigned humility, which makes her speak everywhere against herself, omit nothing that could tend to her disgrace, and magnify her least faults.
How perfectly she excelled in obedience appears from this circumstance, that on all occasions she preferred this virtue to her revelations, saying that in them she might be deceived by the devil, but could not be deceived in obedience. A desire to obey God most perfectly in all things moved her to make a vow never with full knowledge to commit a venial sin, and in every action to do what seemed to her most perfect.
St. Teresa, burning with a desire to promote with her whole strength the greater sanctification of her own soul and that of others, and of laboring to secure her eternal salvation by the most perfect penance, concerted a project of establishing a reform in her Order. The Rule which had been drawn up in the early part of the 13th century by Albert, Patriarch of Jerusalem, was very austere; but in process of time several relaxations were introduced, and a mitigation of this Order was approved by a Bull of Pope Eugene IV in 1431. In the convent of the Incarnation at Avila, in which the Saint lived, other relaxations were tolerated, as we have seen. St. Teresa one day expressing a great desire of living according to the original institute of the Order, her niece Maria d'Ocampe, then a pensioner in that house, offered one thousand ducats to found a house for such a design, and a secular widow lady, Doña Guyomar d'Ullola, zealously encouraged the design. The project met with the approval of St. Peter of Alcantara, St. Louis Bertrand, and the Bishop of Avila, and our Saint was commanded by Christ in several visions and revelations which she recounts, to undertake the same, with assured promises of success and His divine protection.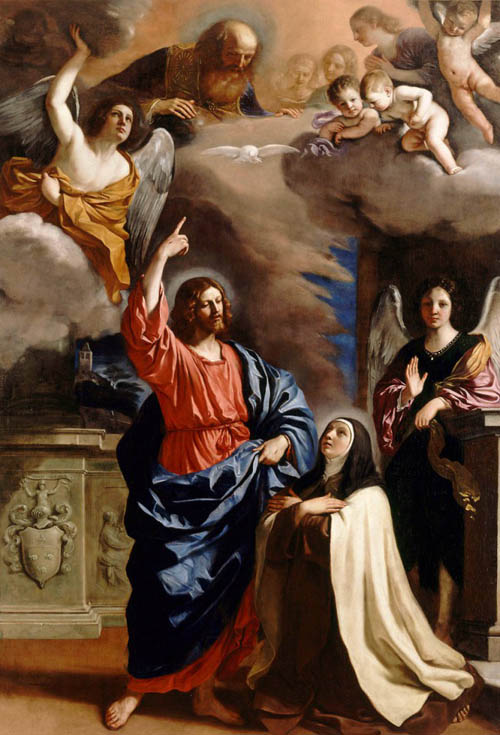 Doña Guyomar procured the permission and approbation of Fray Angelo de Salazar, provincial of the Carmelites in those parts. No sooner had the project taken wind than he was obliged, by the clamors that were raised against it, to recall his permission, and a furious storm fell upon our Saint, through the violent opposition which was made by her fellow nuns, the nobility, the magistrates, and the people. She suffered the most outrageous calumnies with perfect calmness of mind and silence, contenting herself with earnestly recommending to God His own work. In the meantime, the Dominican Fray Ibañez, esteemed one of the most virtuous and learned men of that age, secretly encouraged the Saint, and assisted Doña Guyomar to pursue the enterprise, together with Doña Juana Ahumada, a married sister of the Saint. She began with her husband to build a new convent in Avila in 1561, but in such a manner that the public took it to be a house intended for herself and her family. Their son Gonzales, a little child, happened to be crushed by a wall which fell upon him during the construction of this building. He was carried, without any signs of life, to St. Teresa, who taking him into her arms, put up her ardent sighs to God, and after some minutes restored him perfectly sound to his mother. The child used afterward often to tell his aunt that it was a duty incumbent upon her to secure his salvation by her prayers and instructions, seeing that it was due to her that he was not long ago in Heaven.
A brief from the Pope secured the formal erection of this convent, and St. Peter of Alcantara helped to persuade the Bishop to concur. The reformed convent of St. Joseph in Avila was officially opened August of 1562, and once again a flurry of objections and persecutions burst forth. These were partially abated by the obvious sanctity of St. Teresa together with the few nuns who embraced the austere reform. She went on to establish several more convents of women, and two for men of the Carmelite Order, who also wished to follow the reform; after which, St. Teresa turned the reform for male Carmelites over to St. John of the Cross. Over the next fifteen years, the persecutions were frequently renewed, especially by Carmelites who feared that they too would be forced to accept the reform. The Saint finally had recourse to the King, who petitioned the Pope to end the conflict. This was done by a brief in 1577, which effectually divided the Carmelite Order into two main parts—the mitigated observance and the strict observance, or "the Reformed Order." The members of the latter part have often been called "discalced," because they wear sandals instead of shoes. During the lifetime of St. Teresa, sixteen convents for women of the Reform, and fourteen for men, were established.
In 1582 St. Teresa was returning from founding a convent at Burgos to Avila, where she was prioress, when she was sent for by the Duchess of Alva. She was at that time very ill of her usual distemper of a palsy and frequent vomiting. Yet when she arrived at Alva on September 20, she conversed with the Duchess several hours; then went to her convent, understanding that the Lord was calling her to Himself. On the 30th she was seized with a bloody-flux, and after communicating at Holy Mass, took to her bed, and never rose out of it anymore. The Duchess visited her every day and served her with her own hands. Sister Anna of St. Bartholomew, the Saint's personal companion, never left her. She strove to give some spiritual instructions to her nuns every day until October 3rd, when she received the Last Rites. After much vocal prayer she remained about fourteen hours in a trance, as it were, holding tight to her crucifix. She calmly expired on about nine in the evening of October 4. It just so happened that the reform of the Calendar was taking place on that day, by command of Pope Gregory XIII; and the following day was then reckoned as October 15—becoming thereafter the date of the Feast of our Saint. Four years after her death, her body was found incorrupt. After many miracles she was canonized by Pope Gregory XV in 1621.
Contact us: smr@salvemariaregina.info
Visit also: www.marienfried.com